Quality Systems
Quality and service are the most important factors in achieving customer satisfaction. That is why we, at Mitchell Metal Products, strive to meet and exceed customer expectations.
Every phase of production, from tool design and development through delivery of products is vital to our commitment to quality. In-process inspections by our team of experienced operators assure the highest quality throughout your production run.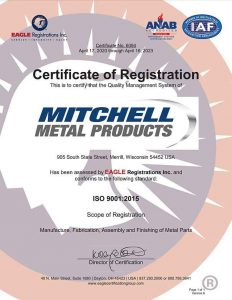 Our quality system is based on ISO 9001-2015 standards, meaning you can be assured of robust systems designed to monitor our processes providing you with products of the highest quality, performance and value.
At Mitchell Metal Products we believe proper planning yields the best opportunity for success. This is why we create process FEMAs for each new project awarded to us. Our FEMA teams are staffed with production personnel, departmental supervisors and members of our senior management team. Together they consider all aspects while coordinating our production campaign.
Whether your job is a simple single-press operation or a subassembly containing a wide variety of purchased parts or internally produced products that require multiple operations, you may rest assured Mitchell Metal Products will provide the attention to detail required to create the highest value. Our production processes are monitored for variation through the production run. Operators are trained and crossed-trained to assure technical support throughout our facility.
We take pride in our operations. Associates and supervisors adhere to 5S standards to keep work areas in order and ready to maximize throughput while minimizing variation.
When you need excellence from the start of the process all the way through product finish, consider Mitchell Metal Products. Contact us today with your metal stamping and forming requirements. We will put our quality focused team to work for you!