Employment Opportunities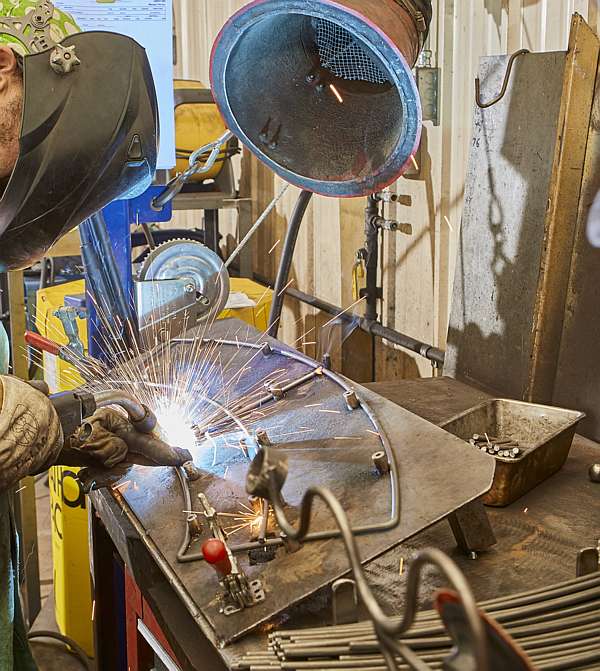 Mitchell Metal Products is a leading producer of progressive metal stampings, metal forming, weldments and assemblies for OEM industries. Our capabilities also include tube bending fabrication, electro-zinc plating, metal deburring, resistance spot welding, robotic welding, riveting, orbital riveting and production of precision enclosures and assemblies. In addition to the metal stampings and formings supplied to OEM industries, Mitchell Metal Products is a major supplier of wreath rings for the Christmas and craft industries.
At Mitchell Metal Products we believe in a team environment where everyone works toward a common goal. In today's competitive manufacturing climate, we believe anything less than commitment to the ideals above is settling for less than we know can be achieved.
OUR MISSION IS TO EXCEED OUR CUSTOMERS' EXPECTATIONS WITH INNOVATIVE PRODUCTS OF HIGHEST VALUE DELIVERED ON-TIME, IN AN ENVIRONMENT WHICH FOSTERS EMPLOYEE AND COMPANY GROWTH AND SUCCESS.
Mitchell Metal Products offers its employees competitive wages and benefit packages including vacation, health and dental insurance, 401K, gain sharing incentives, holiday and personal time off as well as worker wellness initiatives. More importantly, we provide a work environment committed to safety and the cultivation of ideas. The majority of our associates have been with us for more than five years and this is a fact that we are proud to report!
Our culture is defined as showing deep appreciation and gratitude for our employees. 
At MMP, we prefer to grow our own leaders and technical expertise, as we are proud of our culture. Our in house safety program promotes our safety KPI's to make sure employees go home safe to their families every day. We advocate for professional development training and industry recognized certifications to support the growth of our employees.
We take care of our employees so our employees will take care of our business.
Key benefits of working at MMP include:
Competitive wage with generous benefits, (health, dental, vision, 401K)
Opportunity for overtime and shift premiums 
Monthly KPI performance bonus potential after 60 days
Safe workplace and Safety Program 
Employee appreciation cookouts 
In house flu shots
Turkey certificate for Thanksgiving
Christmas Party (in January)
Employee Referral Program
Local partnership with Weinbrenner for work shoes
Community and K12 partnerships
Growth opportunities
We support Wreaths Across America
Thank you for your interest and support of our shared success at Mitchell Metal Products. Excellence from Start to Finish. 
If you desire to be part of a dynamic, manufacturing-based organization seeking continuous improvement and offering excellence from start to finish, submit your resume or application to us from one of the pages linked below. For more information please contact us at 800-967-7464.