Specializing in Metal Fabrication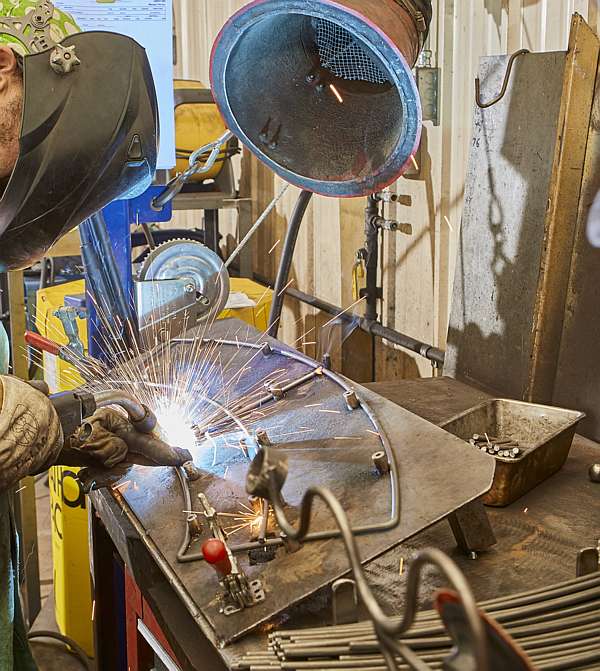 We specialize in fabricating everything from cold-rolled sheet to hot-rolled structural steel and stainless-steel plate to aluminum tubing. Our robotic weld center is coupled with silver solder brazing operations to create high-end weldments for the furniture and office equipment industries. Atmospherically controlled welding operations are provided for stainless steel products requiring a high luster finish.
We fabricate structural steel using our automated saws, expert iron workers and various welding equipment. Custom designed bending machines allow us to form heavy-gauge steel into brackets and channels resulting in economical savings with your specifications.
PC-controlled cut-off saws are used to efficiently cut-to-length ganged and bundled steel tubing. Custom designed work centers are often positioned at the end of our saw lines allowing one operator to perform all tubing fabrication from one location thereby eliminating multiple setups and increasing throughput. Our customers benefit from these world class manufacturing practices.
Hydraulic and pneumatic forming machines, specially designed and created at Mitchell Metal Products allow us to bend heavy gauge steel (5/16" and heavier) into custom shapes. Iron workers punch and fabricate the same heavy material as required by customer specifications. Metal shearing operations are completed with accuracy and efficiency.
Contact Mitchell Metal Products the next time you need metal fabrications featuring excellence from start to finish.
We are ready to quote your next project. If you require design assistance, please let us know. Our design team will fabricate your ideas into reality!