Custom Product Development and Tooling Design Solutions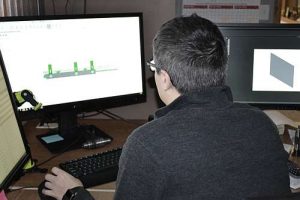 Mitchell Metal Products excels in custom product design as well as the integral process development required to produce precision metal products and subassemblies. Our expert CAD design team enjoys working directly with our customers' engineering teams to develop an optimized production solution for your commercial application.
Whether we are developing a custom tooling design for your quality metal stamped products, or honing our versatile metal forming and assembly services to meet the unique challenges of your business, at Mitchell Metal Products, we view every one of those challenges as an opportunity to put our precision design and manufacturing skills to work.
Our diverse range of production capabilities enable us to provide you with cost-effective tooling solutions to your metalworking challenges, expertly developed in-house at our state-of-the-art stamping facility in Merrill, Wisconsin.
Precision Metal Stamping Tooling Design Capabilities
Our design team works with major manufacturers as well as start-up companies who need assistance with product design. Often manufacturing and design engineers call upon Mitchell Metal Products when faced with challenges presented by today's global marketplace. Combining our expertise in metal forming processes, tooling solutions and subassemblies with customer product knowledge has created many cost-saving opportunities for our customers.
Custom Tooling Solutions Optimized for Your Metal Stampings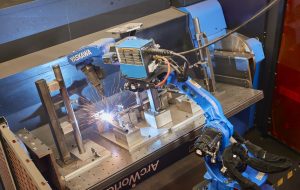 Our team takes a holistic approach to design challenges. We first consider the function of the part and the customer expectations. Then we specifically match the resulting requirements to the appropriate manufacturing processes. While that may seem simple, the small nuances involved in designing the manufacturing process are often what determine whether the project will be successful or not.
The extensive manufacturing capabilities at Mitchell Metal Products enable us to capitalize on innovative ideas directly from our design and production teams. It is common for us to assemble representatives from engineering, tooling and production to create a project team dedicated to solving a complex metal forming challenge.
The results speak for themselves: high quality metal subassemblies, high efficiency manufacturing processes, exceptional metal stamping tooling design and satisfied customers. Allow Mitchell Metal Products to review your design challenges and we look forward to offering you a tooling solution that will enhance your standing in the global marketplace. Contact us today for custom development for your project.
Contact us today at 800-967-7464 to discuss the advantages of Mitchell's progressive metal stamping services. As one of the Midwest's leading providers of custom metalforming solutions, Mitchell proudly serves a diverse range of commercial clients spanning from Minneapolis and Chicago to Europe and the rest of the world. Let us put our innovative team of craftsmen to work for your business.